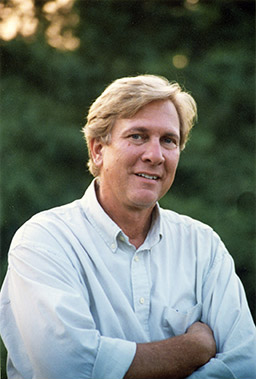 Francis Eugene Wood was born in Farmville, Virginia. He grew up in Brunswick County, near Lawrenceville, where he lived until moving back to Farmville in 1971.
I had a wonderful childhood, a good family, and all the adventures a boy should experience. The Lawrenceville I knew was small town America, and I was just a shy country boy. I did it all, from carrying papers to cutting grass, little league baseball, Boy Scouts, church and school activities. I became a part-time radio announcer at WLES-AM when I was fifteen. I had a big imagination, too, which served me well. I loved the forests and the river and felt a kinship with nature at an early age, which I've retained throughout my life. Many of my stories come from my past.
Francis began working at WFLO AM/FM radio in Farmville in 1971 and is now General Manager of Colonial Broadcasting Company, Inc. (WFLO in Farmville). Francis is on the air at WFLO-FM with a daily music and information show, as well as his "Lunchbreak Show" where he spins the hits of the 60s and 70s during the noon hour. He is also host of the award-winning "Call Flo Radio Show" heard daily on WFLO AM and WFLO FM. He has taught radio courses at Longwood in Farmville and often conducts lectures concerning the broadcasting industry. He has served as president of the Virginia Association of Broadcasters and was the recipient of the 2015 C.T. Lucy Distinguished Service Award. Francis was also inducted into the Virginia Communications Hall of Fame in 2015. He lives in a log cabin near Sheppards, Virginia, in Buckingham County with his wife, Chris.
I live in the woods under big oaks and poplars. It's all I ever wanted. Just to live in a log cabin and as close to the land as I could. I don't like cities much. Just to visit is okay but it's just too much. I don't like the concrete under my feet or the constant sounds of civilization. I prefer the quiet solitude of the forest. That's where the stories come from. The mountains and the rivers. They draw me to them. They always have and I don't deny it. Give me a good seat in a wilderness place and I'll sit still for hours and watch and  listen. That's where I've learned things about nature and about myself.
The author began writing when he was very young. He enjoyed the stories of his grandparents. He kept journals and wrote poetry and songs. By 1982 his articles were being published in Sports Afield. His first book, The Wooden Bell (A Christmas Story), was published in 1996.
The Wooden Bell really got it all started for me. I wrote it for my family and they all loved it and started passing it around so I went on and published it thinking I'd be lucky to sell a few. I sold out in four days and had to do more printings. It's now in its fourth edition and has been read all over the world. That's special because my son, Daniel, was the inspiration for it. I wanted him to know that anything is possible if you have faith. He says it's his book. It is.
Other books followed. The Angel Carver, The Fodder Milo Stories, Nipkins, Snowflake and The SnowPeople are just some of the titles which have endeared the author to his readers. His works have won design awards, printing awards and praise from readers and critics. The Nipkins, Volume Two, won the Crystal Award of Distinction in the writing competition in 2003 from The Communicator Awards Print Media Competition (an international competition). The SnowPeople won this same award in 2004 along with a Best in Print 2003 Award of Excellence from the Printing Industries of Virginia. Novels such as The Teardrop Fiddle, Moonglow, Sunflower, The Toy Maker's Son and The Enchantment of Nebulon Grey have added to the variety and expanded the scope of the author's imaginary reach. Upon reading Wood's book The Angel Carver, author Earl Hamner, Jr. (creator of The Waltons) noted Wood's integrity as a writer and his honest portrayal of the people of Nelson County, Virginia.
I write about the things I know. It's not forced at all. Just real natural. When you are quiet you notice things around you. I think about a story for a while and then bolts of light begin shooting through my brain. That's when I write. I have to. No outline. No notes. Nothing fancy about it at all. I just sit down and tell the story on paper. It's like a movie screen in my head and I can turn it on or off. But when I'm in it I totally detach from my surroundings. I can't explain it completely. My family understands so that is good.
The author enjoys hiking, camping, canoeing, hunting and fishing. He is a collector of antiques and Native American artifacts. He reads incessantly and is intensely private. He has written and published over 40 books.
My stories are culled from the experiences of my life. The hardest question to answer about my stories is…'was is true?' Well, there is so much truth to them that I'd rather not say. People will label them one day. They always have to label things. I just want to tell a good story.
Francis started Tip-of-the-Moon Publishing Company with his wife in 1997. Together they make his dreams come true.